Moving to İstanbul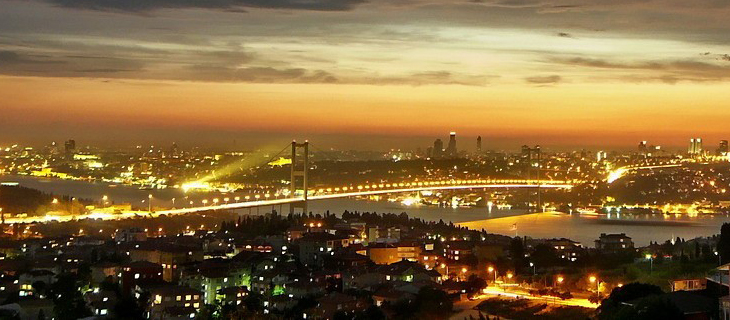 Moving to Istanbul will raise various questions for you. How to deal with the local authorities? How to navigate the infamous traffic in such a huge city?
Our article gives all the answers to your questions about Istanbul, from administrative information to transportation.
When thinking about Istanbul, the first things to come to mind probably include Turkish bazaars and historic buildings like the Hagia Sophia. In fact, Istanbul is not just Turkey's cultural center. The city also boasts an impressive heritage.
In ancient times, many people were moving to Istanbul's forerunners, then known as Byzantion, later on as Constantinople or Byzantium. It has been the capital of three successive empires and seen an influx of all kinds of ethnic groups. They came as colonizers, settlers, traders, conquerors, or migrant minorities, but they all left their mark.
Today, Istanbul shouldn't be only considered as the biggest and most crowded city in Turkey. People who move to this great city will experience a vibrant culture, a modern society and a dynamic economy.
Geography
Did you notice how the Bosphorus seems to break the city in half? Istanbul is located on both Europe and Asia, giving people moving to Istanbul the chance to be in two continents at once. Its location makes it a bridge between the East and the West.
The Bosphorus has always been an important passageway. It connects the Black Sea in the north with the Marmara Sea in the south. In this way, it has boosted Istanbul's economic significance. Relocating to Istanbul will take you to a place where the defining characteristics of two continents join with an abundance of historical sites, picturesque landscapes and waterfronts.
Visa Requirements
If you are going to Istanbul for work reasons, you will have to secure a work permit, a work visa and a residence permit first. The first step is finding a Turkish Embassy or Consulate in your home country. There you will have to apply for a work permit and then for a work visa, in this order.
To apply for a work permit, you have to provide the following documents:
Valid travel document
Work visa application form
One passport-size photograph
One copy of your employment contract for Istanbul
Work Visa
After receiving your work permit, you can apply for a work visa at the same consulate or embassy. You have to turn in the following paperwork (in person), also prior to your move to Istanbul:
Valid travel document with your work permit
Non-refundable work visa processing fee
Non-refundable work permit processing fee
Residence Permit
Even after your move, you are not done with your paperwork. Now it is time to make your way to Aksaray Police Station in order to pick up your residence permit. This has to happen within 30 days after your arrival. Your residence permit will be valid for one year. You can renew it as often as you wish as long as you are employed in Istanbul.
Fortunately, Istanbul's immigration office offers a step-by-step online form to make an appointment and find out which documents you need to provide. The immigration office is located on the European side of the city.
Taxis
Taking the taxi in Istanbul may not be as fast and convenient as in your home country. Private metered taxis are easy to find unless you travel during rush hour. However, before you hop on a taxi, keep in mind that traffic can be extremely heavy and the drivers can be quite reckless.
Unfortunately, only very few taxi drivers speak English or any other foreign language. Write down the address on a piece of paper and show it to the taxi driver. Do make sure that the driver knows the location before you get in the car.
Taxi Fares
You might want to watch out for taxi drivers, they might sometimes try to scam passengers out of their money taking longer routes. If your taxi ride takes you across the TEM highway or the Bosphorus Bridge, you will have to cover the toll. Tipping the driver, however, is not necessary as it is included in the base fee.
You are not in the mood for a taxi ride? You can also take one of the water taxis for a trip across the Bosphorus. Water taxis were introduced in 2008. The fee is calculated per trip, not per passenger. With the capacity to hold up to 10 people, water taxis are often cheaper and faster than regular taxis.
Transportation
If you prefer public transportation to taxi rides, you can choose from various types of transport:
Public buses (otobüs) are cheap and reliable with fares from 2,30 TRY for Istanbul Kart transportation pass. Express buses to more distant destinations are also available. However, the fare prices are higher.
Private buses (halk otobüs) and mini-buses (dolmus) also operate on different routes. The mini buses are a little more expensive, but you can negotiate the fare based on your destination. You are not tied to bus stops as the driver will let you off wherever you wish.
The metro runs mostly in the downtown area, yet other stops are in operation also. Thus, you can travel to the airports with by metro and save yourself from traffic.
The tram and light rail (tren) cover a significant part of Istanbul and are connected to the metro system.
Ferries (vapur) are used by many residents in Istanbul to cross the Bosphorus. They also take you to the Princes' Islands for a weekend get-away.
Inter-city buses are not only cheap but also reliable and comfortable. They offer an on-board service similar to that on airplanes.
Fares
The most common way to pay your fare is via Istanbulkart. These are available as reduced fare cards, free ride cards, and passes. Unless you are a student, veteran, or a senior citizen, you will have to purchase a Blue Card for your daily commute. The fee for the card is 10 TRY, the monthly loading fee is 185 TRY. A single ride costs 1.80 TRY using the Blue Card.
Districts
The district of Beyoglu is often called Pera, too. Here the influence of people from various cultural backgrounds is still prevalent. Thus Beyoglu is not only Istanbul's center of trade, but also the city's hub for art and entertainment. With neighborhoods such as Taksim Square, Galatasaray, Tünel, or Tarlabaşı, it also features the busiest nightlife in Istanbul.
The Asian part of Istanbul is much more calmer compared to the European part. It was first known as Chalcedon and forms one of the city's largest districts. Although Kadıköy is the first stop for most people who arrive here, the Asian part is mostly famous for its historical market.
The Princes' Islands, on the other hand, are ideal for a weekend get-away. You can take the ferry to Kınalıada, Heybeliada or Büyükada on a sunny day. All three of these islands are famous for their monasteries and churches, which are open for visitors. Most visitors discover the islands by taking a bike tour. The bikes can be rented for only few Liras.
The historic peninsula is known for its vast number of museums and monuments. Constantine had chosen this part of the city as his capital, leaving behind many architectural and cultural treasures. Here you'll find the Hagia Sophia, Topkapı Palace or the Archeological Museum. Sultanahmet Square – Istanbul's touristic center – is located on the peninsula as well.
Publishor : Internations.org