The New Procedure for the Execution Proceedings in Subscription Agreements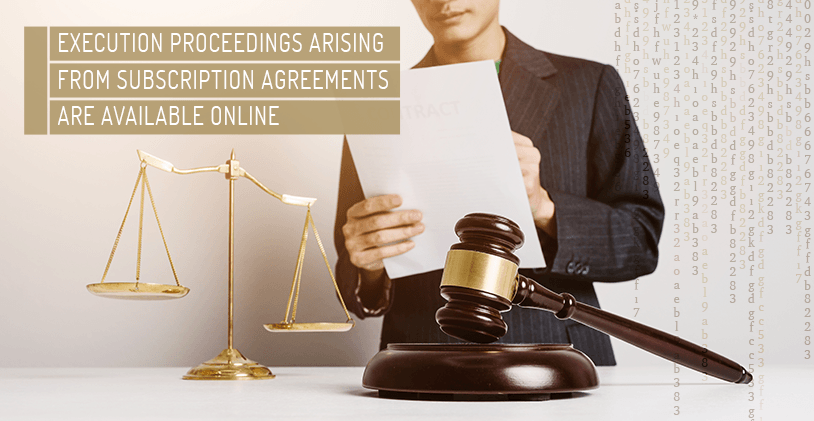 7155 numbered the "Law on Initiating an Execution Process Regarding the Pecuniary Claims Arising from Subscription Agreements" (the "Law") has published in the Official Gazette on December 19th, 2018. The Law hereby, aims to determine the procedure and principles of carrying out the execution proceedings (without judgement) through levy for the pecuniary claims arising from subscription agreements by initiating the process on Central Follow-up System on UYAP until the distraint phase.
It would be beneficiary to begin with giving a brief information about the scope of the subscription agreements since this Law regulates the execution procedure of these agreements. The definition of the Subscription Agreements in the 6502 numbered Law as follows, "a subscription agreement is the agreement which ensure the consumer to provide periodically a certain good and service for a duration of which may be continuously or regularly". Hereunder, with this new regulation, the execution proceedings for pecuniary claims shall be initiated and executed electronically (UYAP) for the agreements in this scope.
Thus, to apply an execution office de facto for initiating the execution process is not necessary anymore. The execution process shall be initiated after issuing the request for enforcement proceedings, recording the request to the system and issuance of a payment order by the system.
You may reach further details of the execution process via full text of the Law in the Official Gazette.
Another crucial point regulated with the Law is to make mediation process a provision to bring a lawsuit (cause of action) for commercial cases. Hereunder, to apply a mediator before bringing a lawsuit about pecuniary claims and compensations in commercial litigation processes, is became mandatory. Hence, the case shall be dismissed if it is filed without applying a mediator.
This process shall be implied as of 01.01.2019 and will not be subject of the present cases at first degree courts, regional courts and Court of Appeal.