Is Human Resources ready for the "Forget Me" stage?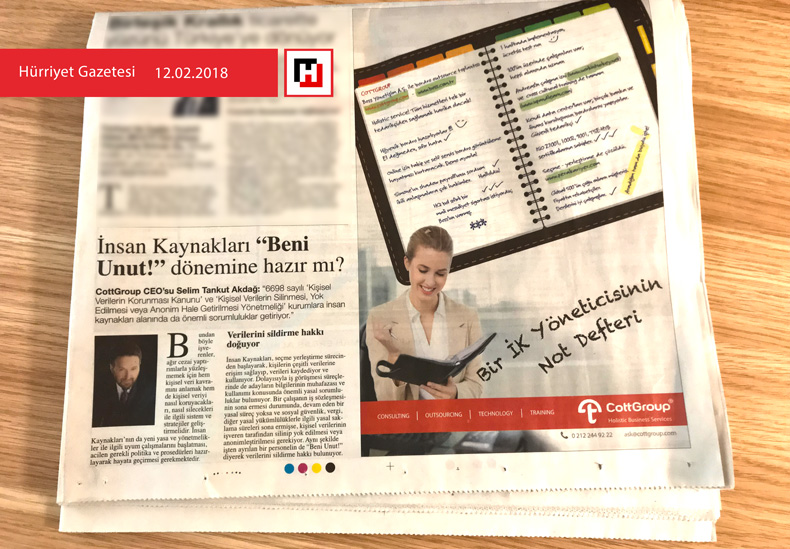 On the 12.02.2018 dated Hürriyet newspaper CEO of CottGroup®, Selim T. Akdağ explained the deletion and the anonymization of the personal data. In Akdağ's statement, with the personal data anonymization, its place in Human Resources and the additional responsibilities that it brings along to the companies, along with the right of saying "forget me" are also told.
CEO of CottGroup®; Selim Tankut Akdağ The Law numbered 6698 on the "Protection of Personal Data" and "deletion and anonymization of the personal data" regulations in the application of the Law brings major responsibilities to companies, especially in the field of Human Resources.
From now on, the business owners should develop and elaborate their knowledge for understanding the concept of personal data and should introduce systems and strategies on how to protect and delete the personal data. It is an urgent need for the Human Resources to start building new policies and procedures to keep up with the new laws and regulations.
Right to erase the personal data originates
The Human Resources, collects, saves and uses various data about the individuals, as of the beginning of the recruitment and onboarding processes. Therefore, recruitment processes have crucial legal responsibilities in protection and the usage of the candidate's personal data.
In case of a termination of an employee's work contract, if there aren't any ongoing legal processes and if, the social security, tax and the other legal obligations have finished the legal preservation period, the personal data must be deleted or anonymized by the employer. Likewise, resigned personnel also have the right to request the deletion of the personal data by saying "Forget Me!".