Boss Governance Continues To Rise in the Consultancy and Technology Arena With Its Experience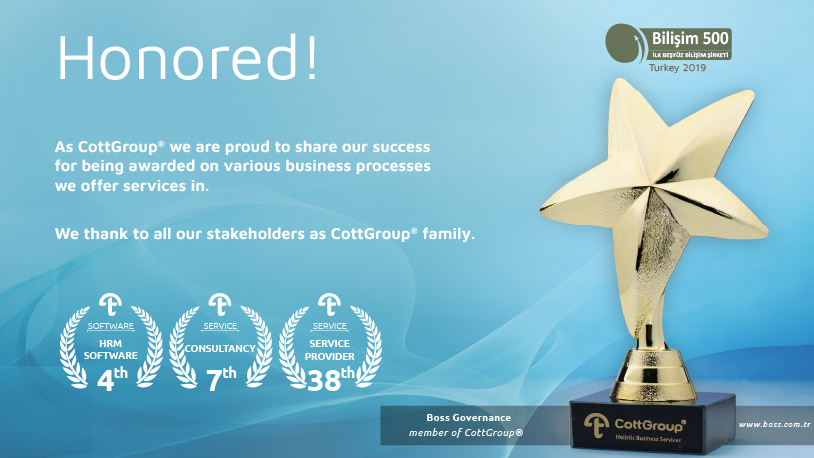 CottGroup® is proud of its flagship company, Boss Governance (Boss Yönetişim Hizmetleri A.Ş.) and happy to announce that it has been ranked with several successes with its expertise in various categories on the First 500 Technology Companies List.
Boss Governance has been,
Ranked 7th as consultancy service provider,
Ranked 4th among the Human Resources Management Software developers of Turkey,
Ranked 233rd in the first 500 Technology Companies (according to sales income numbers),
Ranked 94th among the software providers in Turkey,
Ranked 89th among providers in Turkey,
Ranked 38th as service provider.
Rising its rankings in its sector in the fields of consultancy, outsourcing and services, Boss Governance has recorded several new successes, which are the outcomes of efforts of its expert teams, long years of experience and well-designed technological infrastructure.
The trust of our clients to our services; that includes those of the multinational companies in the Fortune - Global 500 list, makes us stand stronger to improve our investments in the fields of consultancy and IT, and increase our investments particularly in technology; since digitalization has become inevitable, especially with today's conditions brought by the global pandemic we've been going through these days.
Due to the Covid-19 epidemic that affected the whole world, having been held in digital environment, "The First 500 IT Companies of Turkey 2019 - Bilişim 500" ceremony broke a new ground this year by emphasizing the importance of digitalization again.
The ceremony which was live streamed online on Wednesday, August 26th, 2020 reached a wide range of participants attended hosting the Deputy Minister of Transport and Infrastructure Dr. Omer Fatih Sayan, Presidential Economic Policies Board Member Dr. Hakan Yurdakul, Head of Digital Transformation Office Dr. Ali Taha Koç, Head of BThaber Group Murat Göçe, as well as Süreyya Ciliv and Mehmet Ali Akarca who delivered opening speeches.
With our holistic business services and innovative approach in line with the needs of the digital economy and technological developments, we will continue to rise among the best brands of Turkey by closely following the trends in the sector.
We sincerely thank particularly all of our employees, along with our clients and business partners who have taken us to the top rows in the First 500 Technology Companies List with their trust and contributions to our success story.