Boss Governance Inc. - A Leading Player in the IT Sector, Achieves High Rankings in the 2022 Bilişim 500 List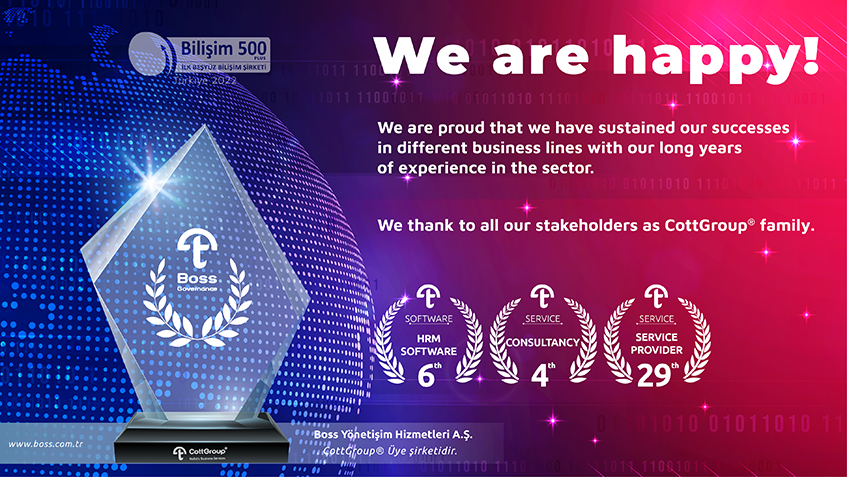 The results of the 'Turkey's Top Bilişim 500 Companies' research, now in its 24th year, were unveiled at the awards ceremony on Wednesday, August 9th, 2023. With the theme " Yeni Yüzyılımızda Daha da İleri – Further " the research evaluated Turkey's top Bilişim 500 companies across four main categories and various sub-categories.
Our subsidiary, Boss Governance Services Inc., continues its upward trajectory in various categories on the Bilişim 500 list, maintaining its consistent performance over the years. This achievement is attributed to its unwavering commitment to service quality and its adaptive organizational structure.
Boss Governance Inc. stands out for its holistic service solutions tailored to diverse business models. With its expert teams, cutting-edge technological infrastructure, robust networks, and strategic partnerships, the company secured noteworthy rankings in the 2022 Bilişim 500 list, including:
showcasing excellence in the operational domains.
Distinguished speakers at the grand awards ceremony included Dr. Ömer Fatih Sayan, Deputy Minister of Transportation and Infrastructure of the Republic of Turkey, and Murat Göçe, Chairman of the Board of BT Haber Group of Companies.
The keen interest displayed by prominent Fortune Global 500-listed multinational organizations in the holistic services provided by Boss Governance Services Inc., combined with their confidence in the Online Human Resources Management System, Informasoft®, and the Payroll Process Management System, Bordromat®, will serve as a catalyst for our advancement as industry pioneers. This impetus will drive our rapid ascent among the premier brands in our nation's landscape.
Above all, our valued employees deserve our heartfelt gratitude, while we also want to extend our sincere appreciation to our customers and business partners whose unwavering trust and support have been instrumental in positioning us where we stand today.