Reconstruction of Social Security And Tax Debts Are in Force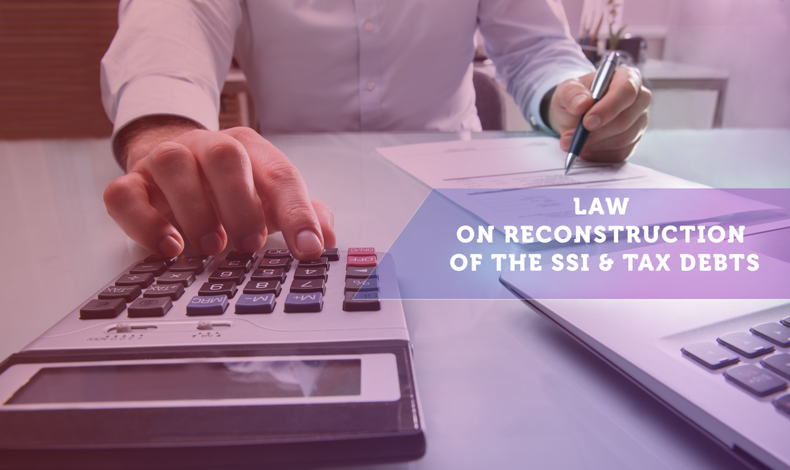 The Law regarding "The Restructuring of Certain Receivables" – also known as Tax Amnesty, which also includes the restructuring of public receivables in many various tax types, has come into effect with the publishing of Official Gazette dated 18th of May 2018. Details in regards are to be provided with the provisions which are expected to be announced by the relevant authorities and institutions.
In general terms; the regulations have been made towards specified receivables, unascertained receivables or receivables in the case before the courts, taxes under investigation, tax base increase and inventory and record corrections. You can find further details on the receivables and the reconstruction applications of such receivables in detail below to this informative article.
The Receivables Subject to Restructuring

Taxes and tax penalties within the scope of the Tax Procedure Law.
Customs taxes and administrative fines
Insurance premiums and fines
All kinds of interest, fee, late interest, late fee, delay penalty regarding these receivables that are restructured within the scope of this law.

The Respective Authorities that are concerned with the Receivables subject to Restructure Applications

Ministry of Finance
Ministry of Customs and Trade
Municipalities
Social Security Institutions
Other Institutions (Directorate General of Highways, Radio & Television Supreme Council, Immigrations and Civil Registry Offices, etc.)
The statement of ''receivables subject to restructuring'' comprise of receivables incurred until the date of March 31, 2018.
The applicants must apply to the relevant authority until the date of July 31, 2018. Tax Base Increase applications are to be submitted by August 31, 2018 and the Cash Repatriation applications are to be submitted by November 30, 2018.
RESTRUCTURE OF TAX DEBTS

With the law regarding the restructuring of tax arrears, the late fees applying to the tax amount are substantially reduced while holding the tax amount constant and the total amount of tax and calculated late fee are rendered possible to be paid in up to 18 installments. These amounts can also be paid in equal payments as 6,9,12 or 18 installments. Also, if down payment is preferred an additional discount will be applied on the late fee which is liable to a re-calculation. The restructuring applications for the debts to Tax Offices will also be able to be made online. Relevant Law Articles: 2, 3, 4, 7

TAX AND TAX BASE INCREASE

In due course that, deficiencies exist in their previous declarations, the opportunity has been given to Income and Corporate Taxpayers to increase tax base and tax. For the periods, for which tax base has been increased, shall not be subject to tax audit for the relevant tax types. Applicants may apply for the increase of tax and tax base in terms of Income/Corporate Tax, Withholding Tax and Value Added Tax.

INCREASE OF TAX BASE IN THE DECLARATION OF INCOME/CORPORATE TAX

The taxpayers declaring income (tax base) in their Income/Corporate Tax declarations belonging to the period between years 2013 and 2017, are required to increase their tax bases by below stated rates/amounts at minimum. If the amount calculated upon the application of relevant rates are less than the minimum amount for increase, the tax shall be calculated based on the higher amount. The taxpayers who incurred loss in these periods will be able to increase tax bases depending on minimum amount of increase.

Minimum Rates for Increase
Year
Rate
2013
%35
2014
%30
2015
%25
2016
%20
2017
%15
Table-1

Minimum Amounts for Increase (Income Taxpayer-Balance Sheet Basis)
Year
Amount-TL
2013
18.095
2014
19.155
2015
20.344
2016
21.636
2017
24.525
Table-2

Minimum Amounts for Increase (Income Taxpayer-Operating Rules)
Year
Amount-TL
2013
12.279
2014
12.783
2015
13.558
2016
14.424
2017
16.350
Table-3

Minimum Amounts for Increase (Corporate Taxpayer)
Year
Amount-TL
2013
36.190
2014
38.323
2015
40.701
2016
43.260
2017
49.037
Table-4

For example: Let's assume that, the tax base declared in the Corporate Tax Declaration is 45.000 TL for the year 2013 and 75.000 TL for the year 2014. The taxpayer applies for a tax base increase. The calculation and result will be as follows;

| | | | | | | | |
| --- | --- | --- | --- | --- | --- | --- | --- |
| Year | Respective Year Tax Base (A) | Rate of Increase (Table-1)(B) | Increased Tax Base Amount (A x B) (C) | Minimum Tax Base Amount (Table-4) (D) | Base Amount for Calculation (Greater than Value Among C or D) (E) | Tax Rate (F) | Payable Income Tax (E x F) |
| 2013 | 45.000 TL | %35 | 15.750 TL | 36.190 TL | 36.190 TL | %20 | 7.238 TL |
| 2014 | 75.000 TL | %30 | 22.500 TL | 38.323 TL | 38.323 TL | %20 | 7.664,60 TL |
|   |   |   |   |   |   |   | 14.902,60 TL |

The total payable income/corporate tax due to increase in tax base is 14.902,60 TL. This amount can be paid at once, as well as in installments.

The tax rate (F) has been taken into account as 20%. If the taxpayer has missed the deadlines to submit the declarations for 2013 and 2014 or delayed the payment of relevant taxes or benefited from 2nd and 3rd articles of this Law for these tax types, then this rate shall be applied as 15%.

TAX BASE INCREASE ON THE WITHHOLDING TAX

The taxpayers who are responsible to declare withholding Income or Corporate Taxes in relation to the employee wages, payments to independent business holders, rent payments, etc. shall be able to increase tax for the years between 2013 - 2017. Each calculation will differ for the each tax year and shall be calculated according the to the rates outlined below, in Table 5.

Minimum Increase Rates
Year
Rate
2013
%6
2014
%5
2015
%4
2016
%3
2017
%2
Table-5

TAX BASE INCREASE ON THE VALUE ADDED TAX

VAT Taxpayers will be able benefit from the provisions of tax increase, if they accept to pay the VAT amount, which will be calculated based on the annual sum stated in the row named ''Calculated VAT ("Hesaplanan Katma Değer Vergisi") with VAT – 1 declaration, submitted with regards to each tax period between years 2013 and 2017. In this calculation, the applied rate cannot be less than the rates stated in Table-6. If no Calculated VAT exists in the submitted declarations, the Taxpayers must apply for tax base increase and over this amount VAT increase amount needs to be calculated. VAT shall be calculated with a rate of 18% to be applied on the amount subject to Tax Base increase.

Minimum Increase Rates
Year
Rate
2013
%3,5
2014
%3
2015
%2,5
2016
%2
2017
%1,5
Table-6

Relevant Law Article: Article 5

PROVISIONS REGARDING THE CORRECTION OF BUSINESS BOOKINGS

Non-existing Goods That Have Been Recorded as Existing In The Workplace

Income and Corporate Taxpayers have been granted with the opportunity to declare until August 31, 2018 (inclusive) the updates for the goods that have been recorded in the Business but do not exist anymore, by issuing invoices and fulfil all kinds of tax-related obligations and hence rendering their records in compliance with actuality.

The deliveries which are subject to general rate (18%), machinery, equipment and fixtures and 10% of the fair value of the commodity goods.
The deliveries which are subject to a discount (1%, 8%) machinery, equipment and fixtures and over the fair value of commodity goods, half of what they are subject to (0.5% or 4%);

Within the light of the above, the bases shall be considered, and the VAT shall be calculated accordingly, declared as the responsible party and shall be paid within the legal payment period.

Cash Balances & Receivables From The Shareholders

Corporate Taxpayers keeping books and records on the basis of balance, have been granted with the opportunity to declare until December 31, 2017, the updates for their Cash Balances that have been recorded in the Balance Sheet but do not physically exist, and the net receivable amount arising from the difference between the business' payables to shareholders and the receivables therefrom due to the business activities outside the company's core business (arising from reasons such as lending etc.) and other transactions recorded in other relevant accounts to fulfil all kinds of tax-related obligations and hence rendering their records in compliance with actuality.

When correcting accounts, it is also possible to consider the amounts that are recorded in other kind of accounts, which are relevant to cash balances and net receivables from shareholders. Tax shall be calculated at a rate of 3% as applied on the declared amounts and the calculated tax shall be paid within the provided period to submit declarations, which is until August 31, 2018.

Article : 6

CASH REPATRIATION

YReal persons and legal entities, whom are to bring the foreign currencies, gold, securities or other types of capital market instruments from abroad until November 30, 2018 within the scope of the provisions of the said article, will be able to have a saving from these assets without any constraints. 2% tax shall be paid from the total value of the assets which are to be invested from abroad.

Initially, the assets, savings from abroad which are to be brought to Türkiye shall be notified and then shall be physically brought to the Türkiye within three months, followed by the notification, to a local bank or an intermediary account. For any asset to be brought to Türkiye until July 31, 2018 no levy tax shall be applicable.
Written by Mükremin Akbulut, Posted in Social Security Law and Legislation, Taxation Law
Notification!

Contents provided in this article serve to informative purpose only. The article is confidential and property of CottGroup® and all of its affiliated legal entities. Quoting any of the contents without credit being given to the source is strictly prohibited. Regardless of having all the precautions and importance put in the preparation of this article, CottGroup® and its member companies cannot be held liable of the application or interpretation of the information provided. It is strictly advised to consult a professional for the application of the above-mentioned subject.

Please consult your client representative if you are a customer of CottGroup® or consult a relevant party or an expert prior to taking any action in regards to the above content.