Ministry of Internal Affairs Lockdown Announcement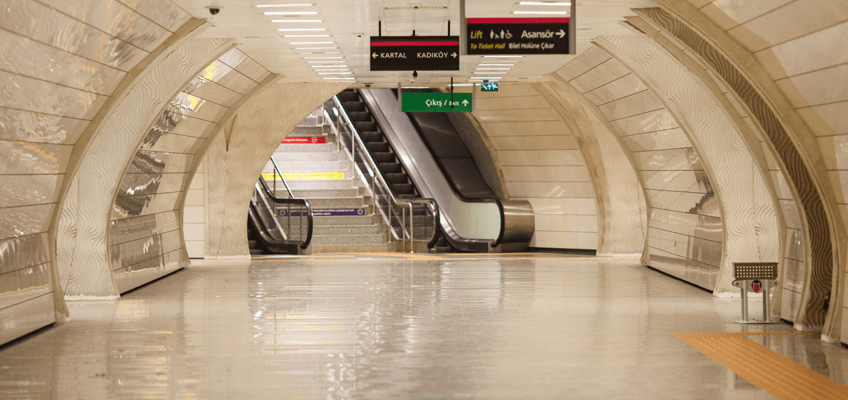 The Communiqué about complete lockdown has been announced by Ministry of Internal Affairs on April 26, 2021.
You can find below the details:
1. Lockdown
The period will be applicable as of April 29, 2021 at 07.00 p.m. until May 17, 2021 at 05.00 a.m.
There will be juridical and administrative sanctions/penalties in case of a breach of the lockdown rules.
The below institutions and individuals will be exempt from this lockdown:
1. Members of Turkish Parliament and its employees,
2. Officers responsible for the public security,
3. Public institutions (airports, ports, border gates, customs, highways, nursing homes, elderly nursing homes, rehabilitation centers, PTT, etc.) required for the maintenance of compulsory public services,
4. Public and private health institutions and organizations, pharmacies, veterinary clinics,
5. Individuals who have mandatory health appointments,
6. Workplaces performing activities related to the production, transportation and sale of medicines, medical devices, medical masks and disinfectants,
7. Production and manufacturing facilities,
8. Employees working in the production, marketing and transportation of herbal and animal products,
9. Employees working in agricultural production workplaces,
10. Domestic and international transportation workplaces,
11. Employees in charge of domestic and international transportation, storage and related activities,
12. Hotels and accommodation places,
13. Officers feeding animals, and volunteers of animal shelters/farms/care centers,
14. Individuals going out for the needs of their pets, limited with the front of their residence,
15. Newspapers, magazines, radio, television, and internet media organizations,
16. Fuel stations,
17. Vegetable/fruit and seafood markets,
18. The bakery and/or bakery products licensed workplaces,
19. Officers in charge of burials,
20. Large facilities with strategical operations in natural gas, electricity, and petroleum sectors
21. Technical service employees working in electricity, water, natural gas, telecommunication etc. sectors,
22. Carrier, water, newspaper, and kitchen tube distribution companies,
23. Employees of local administrations who work on public transportation, cleaning, solid waste, water and sewage, anti-snow, disinfection, fire brigade and cemetery services,
24. Drivers of public transportation vehicles (metrobus, metro, bus, minibus, taxi, etc.),
25. Officers in charge of dormitory, hostel, construction site, etc. in public places,
26. Employees in charge of occupational health and safety of workplaces,
27. People with special needs such as autism, severe mental retardation, Down Syndrome, and their parents,
28. Individuals establishing personal contact with their children within the framework of the court decision,
29. National players who will participate in domestic and international competitions,
30. Information processing centers, banks, employees of institutions that have a widespread service network throughout the country,
31. Individuals attending the central exams announced by ÖSYM,
32. Eating and drinking places and their employees located by the intercity highways, permitted by the Provincial/District General Hygiene Boards,
33. Lawyers, with the limitation of judicial duties,
34. Attorneys having obligations on the courthouses,
35. Vehicle inspection stations,
36. Personnel performing remote education services on Ministry of National Education EBA LİSE TV MTAL and EBA platform,
37. Professionals in charge of cleaning, heating etc. the apartments and sites,
38. Owners of workplaces selling pets, limited to the route between residence and workplace,
39. Horse owners, trainers, and other employees, provided that only the care and feeding of horses,
40. Officers working in the companies that spray the workplaces against pests and other harmful insects,
41. Certified Public Accountants,
42. Bank branches and employees that will work limited between 10.00 a.m. to 04.00 p.m.,
43. Notaries on duty,
The permit document can be obtained from e-government website under Social Security section for the exempt individuals.
1.2 - Grocery stores, markets and butchers can be able to work between 10.00 a.m. to 05.00 p.m.,
1.3 - Eating places can work with take-away service in Ramadan period until May 13, 2021 at 11.59 p.m. After Ramadan, they can work until 01.00 a.m.,
1.4 - Bakery and the workplaces that sell bakery products will be open,
1.5 - All commercial workplaces will be closed, except for the places where basic food/need, medicine and cleaning products are sold. These workplaces can only work remotely without face-to-face service.
1.6 - The accommodation places can only serve to the individuals with vacation permit document.
1.7 - The exemption can only be applicable for the foreigners who are in Türkiye for touristic purposes with a temporary period.
1.8 - For the individuals of older ages, VEFA social support team will serve with the phone numbers 112, 155 and 156.
2. Vacation Restrictions
That restriction would be applicable as of April 29, 2021 at 07.00 p.m. until May 17, 2021.
The exemptions:
Compulsory public servers
Individuals, who should attend burials for their first-degree relatives, need to obtain permit document via e-government website.
2.2 - Compulsory Cases
Individuals whose treatment end and who would need to return to their original residence,
Individuals accompanying themselves or their spouses' first-degree relatives receiving hospital treatment (maximum two people),
Individuals who have come to the city within the last 5 days however do not have a place to stay and want to return to homeplace,
Individuals who will take the central exams announced by ÖSYM,
Individuals whose military service ends and need to return to homeplace,
Individuals who have daily contracts on private or public invitations,
Individuals released from penalty execution institutions,
2.3 - Individuals with the above compulsory states need to obtain permit documents via e-government website or ALO 199 via phone.
2.4 - All preparations will be done to provide permit documents to the individuals.
2.5 - Vacation permit documents would be requested on public transports like plane, train, ship, or bus. In case of a lack of permit document, the officers will not process tickets.
Also, HES code check would be done on all transportations and vacations.
2.6 - The vehicles on public transport can only be full of 50% capacity.
3. On public sector, except health & security or any urgent tasks, the public institutions will decrease their personnel count during this lockdown.
Within this period;
The public sector employees who can work remotely and with shifts would not leave their residence places.
The employees who need to be present at the institutions would obtain a permit document from their managers.
4. All preparations would be done by Ministry of Agriculture and Forestry for the employees working in seasonal agricultural activities and beekeeping activities,
5. Individuals going out without a permit in the site areas would be warned to return to their homeplaces,
6. Related public organizations would be in charge of feeding the animals, also taking care of parks as garden works.
7. Control Activities
7.1 - The officers would plan all steps for the control processes in all cases.
7.2 - During this lockdown, the officers would take all related administrative actions in case of:
Preparing a misleading permit document,
Creating fake appointments in hospitals,
Going markets, bakery, grocery, etc. beyond the intended purposes (like going market with the whole family),
Misusing the Farmer Registration Certificate documents.
7.3 - All vacations between the cities would be controlled on the checkpoints by the officers and also permit documents would be checked.
7.4 - Officers would be ready around the places that will be open for basic needs like grocery, bakery, etc. to ensure the rules and security.
You can reach the Communiqué via the link. (In Turkish)
Should you have any queries or need further details, please contact your customer representative.