Incentives and Regulations on COVID-19 are Announced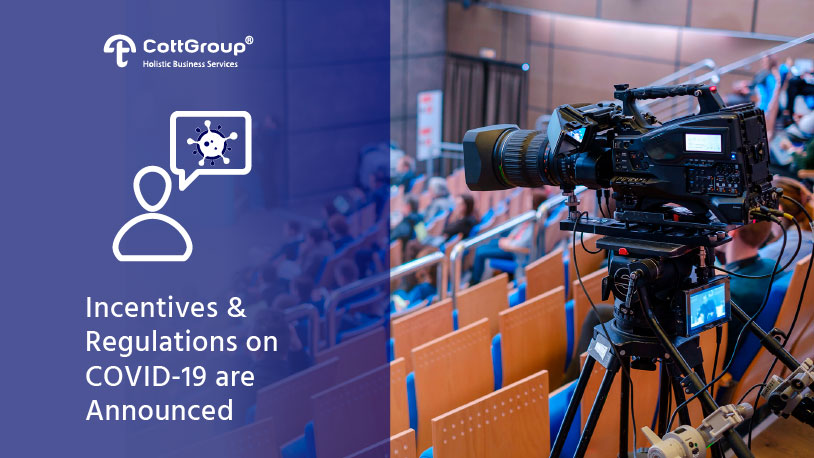 Per the Covid-19 pandemic fact treated Türkiye rapidly, The President has announced new regulations that will be in force soon.
The topics on that announcement related to work life can be listed as below:
For retail sector, shopping centers, iron-steel sector, automotive, logistics, cinema-theater, accommodation, food, textile, events-organizations sectors; withholding, VAT and social security April, May and June payments will be postponed for 6 months.
Withholding tax declaration obligations will be postponed for 3 months
The processes for flexible and remote working options in legislation will be guaranteed.
The processes for short-employment option will be fastened.
The processes for short-employment option will be expedited. Employees working for a workplace, which paused its activities, will receive temporary income support and employers' costs will be reduced.
The period for compensatory work option will be extended to 4 months.
Collection of accommodation tax will be paused until November.
Domestic airline transportation activities will be subject to 1% VAT for 3 months, instead of 18%.
Due to the temporary slowdown in exports, exporters will be given stock financing support.
Craftsmen and artisans', who declare that they are negatively affected by the process, principal and interest payments of credit debt to Halkbank for April, May and June, will be postponed for 3 months without interest.
Within the scope of the measures taken due to Covid - 19, companies', which have disrupted cash flow, principal and interest payments of credit debts to banks will be delayed for a minimum of 3 months and additional financing support may be requested if necessary.
Within the scope of hotel rentals, easement and revenue share payments will be postponed for 6 months for April, May and June.
Support will be provided to SMEs with collateral deficits and liquidity needs.
Minimum retirement pension will be increased to 1.500,00 TL and holiday bonus of retirees will be paid at the beginning of April.
According to the criteria set by the Ministry of Family Labor and Social Policies, an additional 2 billion lira resource will be allocated for cash aid to those in need. Efforts will be made for loan packages under favorable and advantageous conditions for citizens in need.
For houses under 500.000,00 TL, the credit viability amount will be increased from 80% to 90% and the minimum down payment will be reduced to 10%.
Within the scope of the measures taken due to Covid - 19, a 'force majeure' grade will be provided to the credit registry of companies that have defaulted in April, May and June.
For citizens over 80 and living alone, a periodic tracking program for social services and home healthcare will be introduced.
In the light of the above topics, you can find the details of short-employment, remote working and compensatory work options below:
1) Short-Employment Allowance
The circumstances for short-employment opportunity have been located on Unemployment Insurance Law no: 4447, Article Add.2. These circumstances are as below:
General economical, sectoral or regional crisis.
Force major situations
General economic crisis represents the situations that have effects on national economy and the employers' activities. These situations can due from national or international progresses.
Force Major refers to the unpredictable situations like natural disasters, pandemics, military operation preparations that can cause stop or restriction of activities of employers temporarily or permanently.
Accordingly, coronavirus pandemic can be considered as a reason for short-employment working.
Short-employment allowance can be applicable with the below circumstances not for more than 3 months (President can extend that period to 6 months):
If the weekly working hours are reduced temporarily in a ratio of one third
If the activities stopped fully or partly at least for four weeks.
The below steps should be followed for short employment working application;
The Employer should submit the Short Employment Request Form to Turkish Employment Agency(IsKur)
That application is evaluated by the Agency in terms of its reason and form.
In order for an employee to benefit from the short employment allowance;
Short employment request of the employer should be approved by the Agency,
In accordance with the Article 50 of the law no. 4447, employees should be entitled to unemployment allowance in terms of their employment period and the amount of days of unemployment insurance payment by the date of the commencement of short employment (Of those who have paid premium for the last 120 days and constantly worked before the commencement of short employment, those who have paid unemployment insurance premium for at least 600 days in the last three years).
The information of the employees should be included on the list during the review of the Agency.
With regards to the payment amount;
Amount of daily short employment allowance is 60% of daily gross average earning calculated by taking into consideration the earnings of the insurant for the last twelve months subject to premium, not exceeding 150% of the gross amount of monthly minimum wage for those older than 16 years of age in accordance with the article 39 of the Labor Law no. 4857.
2) Compensatory Work
Per the Law no 4857, Article 64, compensatory work can be applicable under below cases:
Where the activities stop due to force major reasons
Where time worked has been considerably lower than the normal working time or where operations are stopped entirely for reasons of suspending work due to force majeure or on the days before or after the national and public holidays
Where the employee is granted time off upon his request,
the employer may call upon compensatory work within two months (will be 4 months with the new announced regulations) in order to compensate for the time lost due to unworked periods. Such work shall not be considered overtime work or work at extra hours.
Compensatory work shall not exceed three hours daily and must not exceed the maximum daily working time in any case.
Compensatory work shall not be carried out on holidays.
Due to the fact that coronavirus pandemic is considered as a force major reason, the above compensatory work rules can be applicable within 2 weeks (not exceeding 3 hours per day) upon elimination of this force major fact.
2) Compensatory Work
Per the Law No: 4857 Article 14; the employees can work outside of the office remotely, with the relevant technological equipment. This work relation should be agreed between the employer and employee in writing.
Accordingly, if the necessary technological equipment can be provided and the employees are supported, this can be an appropriate option.
On this option, there is no change on the responsibilities and rights of the employees and employers. That would be considered as a regular work process as in the workplaces.
You can reach the Unemployment Law no: 4447 on that link (in Turkish)
https://www.mevzuat.gov.tr/MevzuatMetin/1.5.4447.pdf
You can reach Short-Employment Regulation Code on that link (in Turkish)
https://www.resmigazete.gov.tr/eskiler/2018/11/20181109-2.htm
You can reach Labor Law no:4857 on that link(in Turkish)
https://www.mevzuat.gov.tr/MevzuatMetin/1.5.4857.pdf
If you need detailed information, please contact us.