Short Term Employment Allowance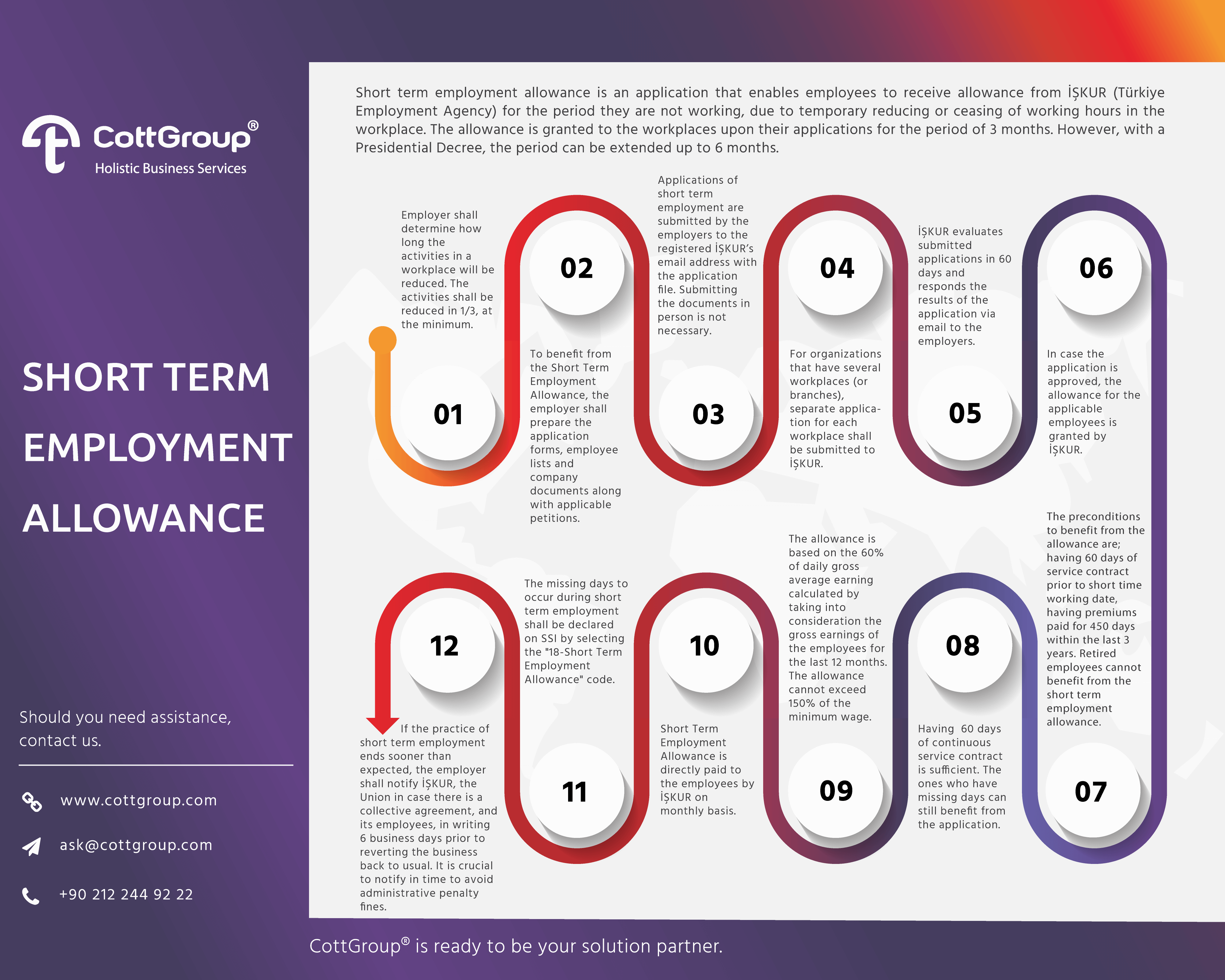 Short Term Employment Allowance is an application that enables employees to receive allowance from İŞKUR (Turkey Employment Agency) for the period they are not working, due to temporary reducing or ceasing of working hours in the workplace. The allowance is granted to the workplaces upon their applications for the period of 3 months. However, with a Presidential Decree, the period can be extended up to 6 months.
Employer shall determine how long the activities in a workplace will be reduced. The activities shall be reduced in 1/3, at the minimum.
To benefit from the Short Term Employment Allowance, the employer shall prepare the application forms, employee lists and company documents along with applicable petitions.
Applications of short time working are submitted by the employers to the registered İŞKUR's email address with the application file. Submitting the documents in person is not necessary.
For organizations that have several workplaces (or branches), separate application for each workplace shall be submitted to İŞKUR.
İŞKUR evaluates submitted applications in 60 days and responds the results of the application via email to the employers.
In case the application is approved, the allowance for the applicable employees is granted by İŞKUR.
The preconditions to benefit from the allowance are; having 60 days of service contract prior to short time working date, having premiums paid for 450 days within the last 3 years. Retired employees cannot benefit from the Short Term Employment Allowance.
Having 60 days of continuous service contract is sufficient. The ones who have missing days can still benefit from the application.
The allowance is based on the 60% of daily gross average earning calculated by taking into consideration the gross earnings of the employees for the last 12 months. The allowance cannot exceed 150% of the minimum wage.
Short Term Employment Allowance is directly paid to the employees by İŞKUR on monthly basis.
The missing days to occur during short time working shall be declared on SSI portal by selecting the "18-Short Term Employment Allowance" code.
If the practice of short time working ends sooner than expected, the employer shall notify İŞKUR, the Union in case there is a collective agreement, and its employees, in writing 6 business days prior to reverting the business back to usual. It is crucial to notify in time to avoid administrative penalty fines.