Turkey - Rising energy needs and supportive political environment promotes foreign hydropower investment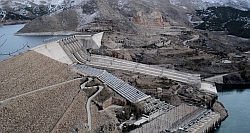 Turkey's electricity demand is expected to reach around 420 TWh annually by 2020 according to the Turkish Electricity Transmission Corporation. Given the favourable landscaping and the government's target to deliver 30% of its primary energy demand from renewables by 2023 results in the introduction of policies making it easier for private and foreign companies to invest in the Turkish renewable energy sector.
Hydroelectric power facilities have been developed since the early 1930's and are today one of the leading renewable energy sources in Turkey. There are many new projects in development however some of the projects face some slowdowns.
Hydropower is competing for investments with other technologies such as wind and solar which have considerable lower upfront capital investments and have much shorter development and ROI periods.
High electricity prices, geographical advantages, supportive political environment and opportunities to export energy due to the interconnection with the European grid make Turkey a favourable environment for foreign renewable energy investments specifically for hydropower with large opportunities ahead.
Ellith has been present in Turkey for almost a decade supporting European companies developing their activities to this market. We rely in Turkey with a valuable professional partner that can provide all the services that clients may require both in immigration and payroll services.
If the opportunity presents and you have a project abroad in Turkey, don't hesitate in counting with Ellith for the accomplishment of your project. Our team of professionals will offer straightforward solutions to you and your clients.