Service Exporters' Association 3rd Prize Winner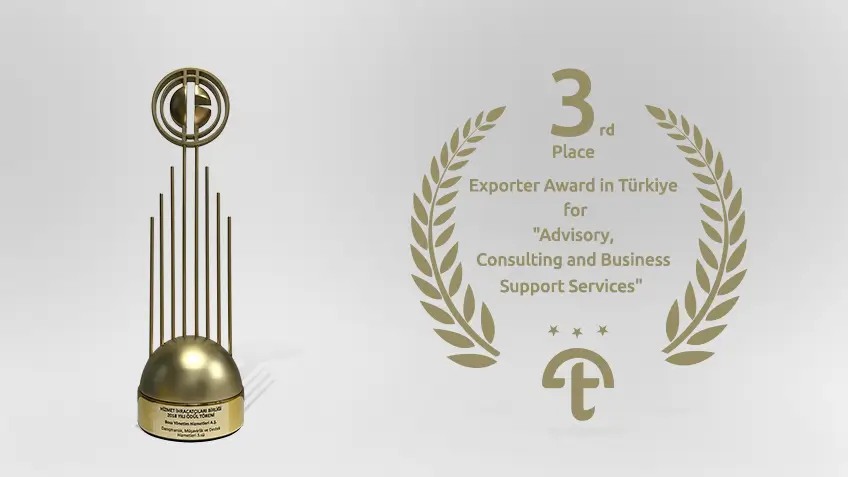 "Service Exporters' Assembly and 2018 Service Exporters' Association (HIB) Award Ceremony" was held at Istanbul Congress Center on December 21, 2019. The ceremony's opening speech was presented by President Recep Tayyip Erdoğan, where bureaucrats and valuable businesspeople were the attendees of, including the Minister of Commerce Ruhsar Pekcan, Minister of Industry and Technology Mustafa Varank, Minister of Family, Labor and Social Services Zehra Zümrüt Selçuk.
Boss Governance is the 3rd Company in Türkiye for Service Export
In this ceremony, where exporters who added value to the relevant area were awarded in 17 different service export categories and one special category were rewarded for their successes, Boss Governance (Boss Yönetişim Hizmetleri A.Ş.) one of our member companies and the flagship company of our organization, received the 3rd prize in the field of "Advisory, Consulting and Business Support Services". The award has been presented to the CEO of our organization; Selim Tankut Akdağ by the Minister of Commerce, Ruhsar Pekcan and the Minister of Industry and Technology, Mustafa Varank.
We are very happy to be one of the top three firms of Türkiye with the highest degree of service export in the field of consultancy and business support services where being honored with a prize for our efforts. We are proud of this success. The greatest contribution to this award is our employees and their devotion.