Boss Governance's Increasing Trend in the Technology Arena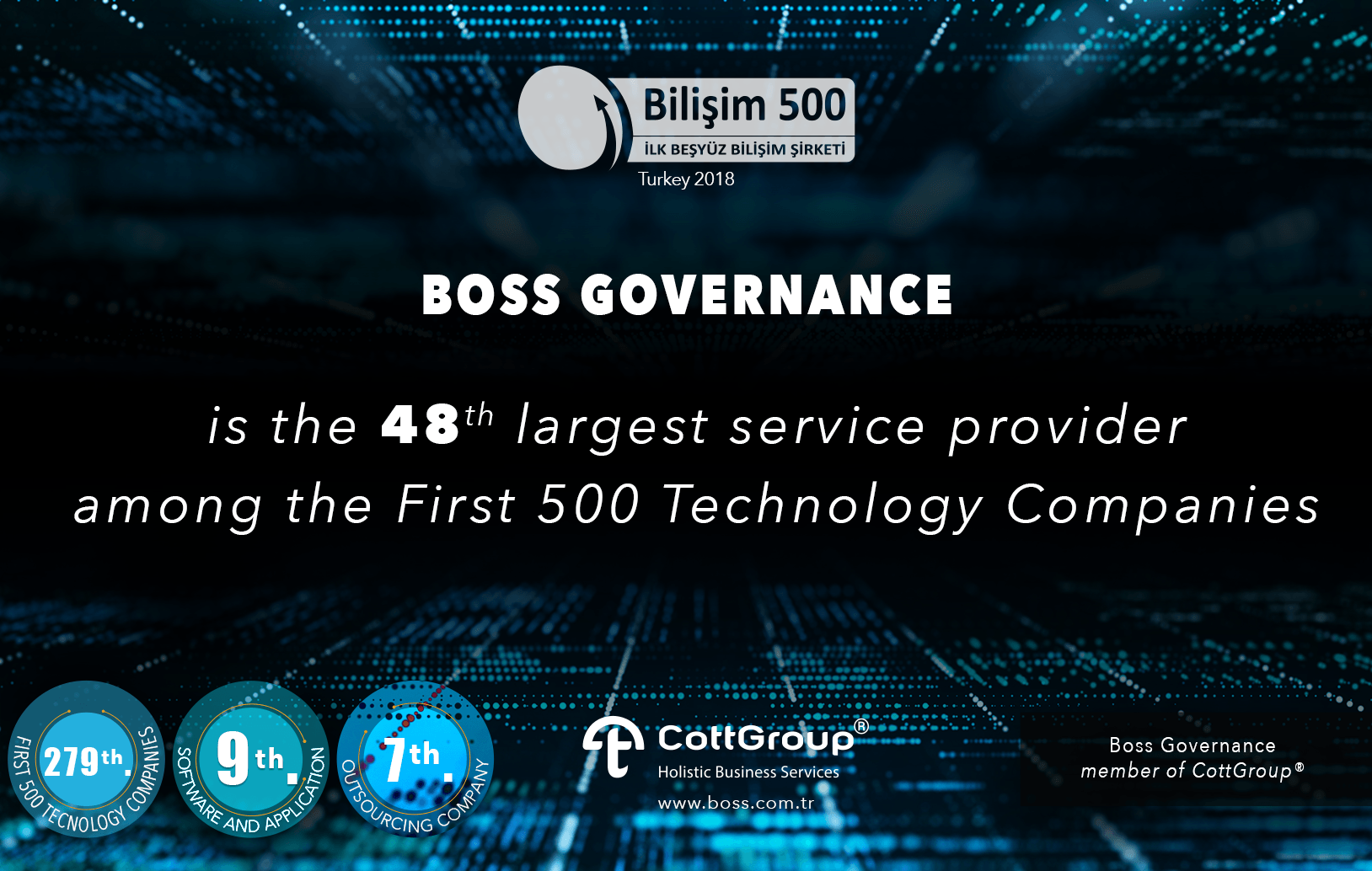 CottGroup® is proud of its flagship company, Boss Governance (Boss Yönetişim Hizmetleri A.Ş.) which has been ranked with several successes in different categories on the (Türkiye) Bilişim 500 List; a list that appoints the largest Turkish technology companies.
Boss Governance has been,
Ranked 279th in the first 500 Technology Companies (as per to sales income numbers)
Ranked 48th as a Service Provider
These rankings are the fruitful outcomes of our expertise, strength, qualified teams and technological infrastructure.
With the innovative attitude we adopted on being a holistic service provider and the strength comes along with this attitude, Boss Governance has become the leader by offering various solutions adaptable to unique needs along with complying the necessities of the digital economy and technological developments.
Currently, the interest and trust of the large scale MNCs inspire us to enhance our innovative approach on IT and relevant fields along with maximizing the level of our exports in the services field.
Bilişim 500" (The first 500 IT Companies in Turkey – Bilişim 500) ceremony was held at Istanbul Grand Pera Emek Theater for the 20th time on Thursday, July 4th with the participation of Ministry of Transportation and Communication Deputy Dr. Ömer Fatih Sayan, Presidential Economic Policies Board, Board Member Dr. Hakan Yurdakul and Head of the BThaber Group, Murat Gökçe.
We will continue to track thesectoral developments and maximize our strength along with ensuring the continuity of our constant processive developments with thanks and support to all our employees, stakeholders and clients for their trust, power, and faith.
Once again, we sincerely thank to CottGroup® family, who has been with us through this path of success.