18 August 2022
What is OTP (One-time password)?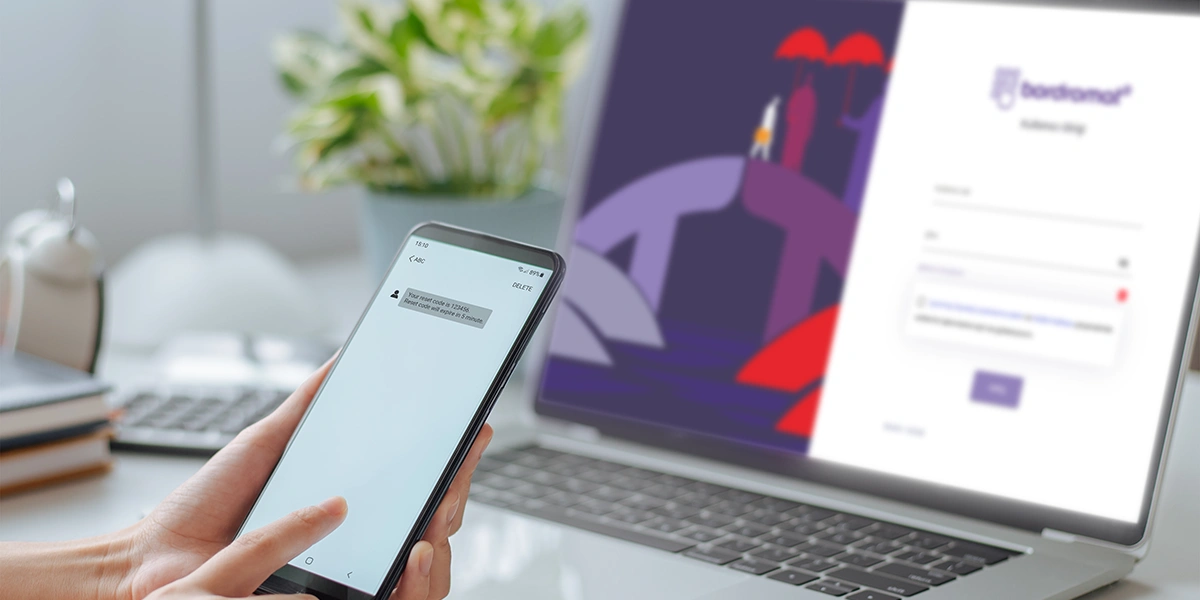 OTP (One-Time Password) is a security measure that protects against password-based attacks, especially password detection and replay attacks. OTP is created by generating a sequence of unique characters or numbers that cannot be reused. This technique is effective in reducing the risk of unauthorized login attempts and data theft. OTP was developed to provide an extra layer of authentication for personal data and critical organizational data in the event of cyberattacks.
OTP employs algorithms that generate a new and random password for every login session. The algorithm uses different characters and symbols each time to prevent computer hackers from predicting your next password. OTP utilizes various techniques to create passwords, ensuring maximum security, including the following:
1- Time Synchronization
The time synchronization technique uses a special hardware component to generate one-time passwords. This component includes a synchronized clock that matches the system's time when the account operations are performed. The password-generating algorithm in these systems relies on time as a crucial component. By using the current time value and a fixed secret key simultaneously, one-time passwords that change at specific intervals can be generated.
2- Mathematical Algorithms
OTP can also be generated based on previously generated passwords. This involves creating serial passwords by performing mathematical operations on a special starting value. Each password that is generated depends on the previously generated password and the mathematical function that is selected.
---
Traditional Encryption Method and OTP
Traditional encryption methods have many weaknesses, which remain present despite the use of well-chosen and difficult-to-guess passwords. If you use the same password for a long time, there's a greater chance that an unauthorized user may access it. This can happen through replay attacks, where the password is captured and then used for unauthorized authentication. Even major online services have been the target of cyberattacks in recent years, which have led to the exposure of numerous customer records. Although changing your password frequently can help reduce such risks, a more convenient option is to utilize a One-Time Password (OTP).
OTP (One-Time Password) Examples
1- OTP via SMS
When a user tries to log in using their username and password, an SMS-based OTP system sends a one-time password to their mobile phone linked to the account. The user completes the authentication process by entering this password on the login screen.
2- OTP via Email
When a user tries to log in by entering their correct username and password, an email-based One-Time Password (OTP) is sent to the email address associated with their account. The user then completes the authentication process by entering this password on the login screen.
3- OTP via Voice Message
Voice message-based OTP involves receiving a one-time password via a phone call to your registered phone number, which is used for authentication. You can use this OTP for authentication within a short time window. When you attempt authentication on any device, the provided OTP is compared with the OTP generated on the server. If they match, your identity is successfully verified.
4- OTP via Instant Notification
Instant notification-based OTP is provided via a mobile-centric third-party application that sends a request to the device associated with the account before granting access. This method helps verify the identity of a user attempting to access a registered account before granting access.
---
The Use of OTP in HR and Payroll Software
OTP (One-Time Password) technology with legal validity is used in Human Resources and Payroll software solutions. This technology is implemented securely and complies with regulations in the Bordromat Process Management System and Informasoft Online Human Resources Management System. OTP is utilized for various activities such as viewing and approving payrolls, managing employee leave requests by managers, and having the user sign approved leave requests. For identity verification, a password generated centrally is sent to the individual. The user can choose to receive OTP via SMS, email, or both and must return the OTP within a specific time frame. Upon entering the OTP received into the application interface, the system verifies the authentication code, and remote identity verification is completed. The validity period of the OTP code used in Bordromat Process Management System and Informasoft Online Human Resources Management System relies on the duration chosen by the user.
Sectors Benefit From OTP
Various sectors, organizations, and software applications use One-Time Passwords (OTPs) to secure their data against potential exploitation of identity information and cyberattacks. These sectors include:
Banking and Finance
Government Agencies
Defense Industry
Consumer Electronics
Commercial Security
Travel and Immigration Agencies
Human Resources and Payroll Software
Healthcare Service Providers
Should you have any queries or need further details, please contact us.