Strengthening Our Position in the Global Arena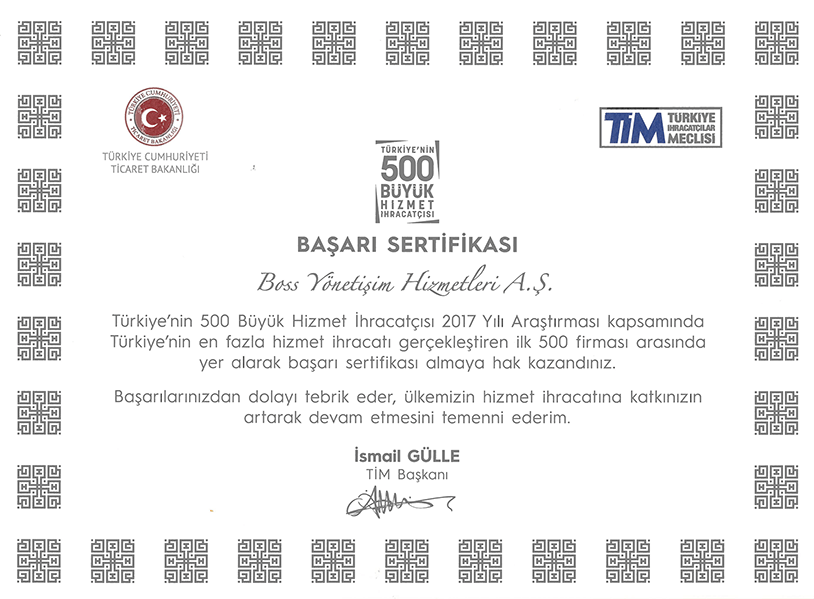 Recently, as CottGroup® - Boss Yönetişim Hizmetleri A.Ş. (Boss Governance), we were honored to take part in the Turkey Informatics 500 List. This time, we are rewarded with an achievement certificate for taking part in Turkey's First 500 Exporter Companies List, as a result of the study conducted by Turkish Exporters Assembly (TİM). As we are honored by the TIM in the export of services, this is a significant incentive and happiness to improve our growth in this area.
While we are committing ourselves to our operations ensuring our work force is qualified, our goal is to constantly improve by achieving flexibility and quality to accommodate our services with all kinds of needs. Thanks to the fast and easy adaptability along with the optimum costs of our services such as payroll outsource, consultancy and other BPO solutions we have developed, our company has become the first choice of Fortune Global 500 companies for finding an applicable service provider to their local needs.
We believe in the importance and significance on government's support for R&D and Teknoparks. Therefore, we foresee that exports of our software, which are designed for platform-based services, will increase and develop even further and faster.
As the service processes of BPO (Business Process Outsourcing) and PEO (Professional Employer Organization) are digitalized, we contribute to the increase in exports as well as our country's publicity by being a companion to foreign investors. The biggest factor of our success is unprecedented efforts of our expert teams who embrace the holistic service philosophy. Members of the CottGroup® Family deserve to be proud due to their strong and unprecedented support, as they ensure us to be preferred by our loyal clients and business partners from the United States, Europe, Middle East, China and Russia.
In the forthcoming years, we will continue to invest constantly to increase our service quality, service range and market share.